The challenges and opportunities for sustainable carbon capture were at the centre of a presentation at last week's Energy from Waste Virtual Conference by Dr Peter Gunning, Head of Research and Development at O.C.O Technology.
In a session entitled Circular Economy and Resource Recovery, Peter spoke in detail about Carbon Capture & Sustainable APCr Treatment Solutions: Challenges and Opportunities.
And it's a subject he returned to the following day as he was joined by his O.C.O colleagues for a sponsored round table event.
"There was a huge amount of interest in our technology as delegates could see for themselves the huge potential for carbon capture and utilisation (CCU) and carbon mineralisation," said Peter.
"Both the Q&A session and the round table debate enabled us to respond to questions from the audience on a wide range of issues, it was a hugely useful exercise and one which I believe has opened new horizons and possibilities for the work we are doing."
Described as the UK and Europe's premier energy from waste conference, the three-day event, held in association with EfWNet, attracted interested parties from around the world.
During his presentation, Peter highlighted the success story that O.C.O Technology has achieved by becoming the first company to commercialise its Accelerated Carbonation Technology (ACT) process, treating Air Pollution Control residues (APCr) from the Energy from Waste (EfW) sector with waste carbon dioxide gas to enable the permanent capture of significant amounts of CO2.
And he went on to explain how its technological successes has seen O.C.O manufacture a truly carbon negative artificial aggregate – known as Manufactured LimeStone (M-LS) – on a commercial scale for the first time. The product has been granted End of Waste (EoW) approval by UK's Environment Agency – the first time any company in Europe has achieved such an accolade for an APCr waste stream.
The presentation began by outlining different options for carbon capture and utilisation (CCU) before taking a more in-depth look at the mineralisation process used by O.C.O.
Of particular interest to the audience was the fact, demonstrated by Peter in one of his slides, that a wide range of materials – including tailings from the mining industry and kiln dust from the cement sector – all have the potential for carbon mineralisation.
Peter said: "CCU technology offers a wide variety of possibilities, including the construction of larger regional facilities receiving wastes from a number of sources, or co-location at sources where both carbon dioxide and reactive wastes materials are produced.
"CCU processes can be partnered with CO2 purification technologies where it needs to be transported, or take advantage of low energy direct flue gas capture."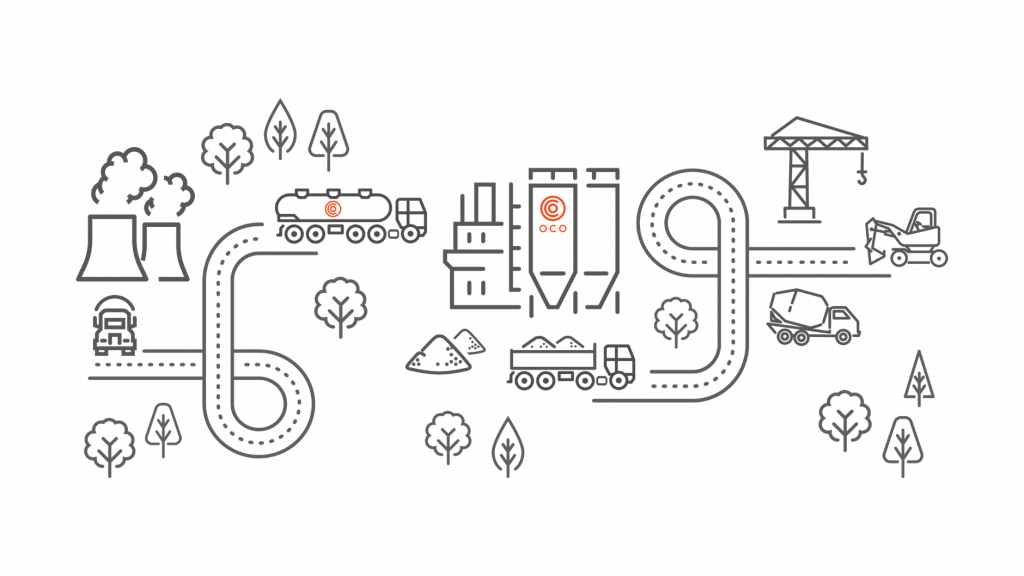 Caption: Image above shows the role of carbon mineralisation
Recently, O.C.O has been working on a major new project with Japan's Mitsubishi Corporation and Peter explained how he and his team have been undertaking trials at O.C.O's Avonmouth facility, focusing on the carbonation of slag waste from steel processing plants. The project has now moved forward to the next stage, with a pilot plant being constructed to enable tests on a range of steel slag residues using a variety of techniques.
Also highlighted was the fact that Mitsubishi Corporation has chosen O.C.O as one of only four global companies to join its Green Concrete Consortium, a project that aims to transform CO2 into carbon negative concrete and aggregates.
The presentation looked at the technical challenges and barriers faced by novel technology providers attempting to drive the circular economy forward, including:
The lack of commonality around End of Waste (EoW) legislation worldwide
Ever increasing complexity of product legislation and almost overcritical scrutiny of valorised products compared to their virgin equivalents
The issue of a largely conservative approach towards 'new' recycled products
The lack of added value for greener, sustainable products
The question of challenges and constraints for the future also arose during the round table debate, prompting O.C.O managing director, Steve Greig, to comment: "As the business has matured, the challenges and opportunities have changed. Initially our sole focus was around recycling and the quality of our aggregate product and, whilst these remain key, the focus today is more about carbon.
"The biggest challenge is undoubtedly legislation. Here in the UK, we have achieved EoW for our aggregate as a product, but that process isn't a level playing ground across the EU and around the globe – indeed in some countries the legislative structure for production declaration is still being developed as we speak. As our aggregate is often a new product in the market, the challenge is how this is viewed and compared to long-established and known recycled aggregates, such as crushed concrete or bricks for example."
His views were echoed by Peter, who added: "There is a lack of consistency. We are trying to develop the circular economy while dealing with new legislation about valorising waste. It is important to have bona fide technologies in the supply chain, but sometimes the legislation can unintentionally can make it a lot harder for new processes to come into the market."
The issues around a potential carbon tax and carbon trading platform were also discussed, with Steve saying: "We are seeing very interesting positions on tax and carbon and price in different jurisdictions, without doubt carbon tax is coming, but in what format, whether direct or indirect, and at what cost, we simply don't know.
"Having a common platform on carbon trading and pricing is a very interesting topic and it would be good to have some clarification and/or a worldwide industry standard put in place, which makes our work with Mitsubishi so interesting."
Other topics covered during the two sessions included tackling the reliance and acceptance of landfill as a disposal route for EfW residues and the need for greater incentives for green products to encourage their wider use.
To find out more, visit www.efwconference.com