O.C.O is delighted to have been included in enfinium's 2022 ESG report and to be part of enfinium's continued commitment to social and environmental values.
O.C.O currently recycles APCr (air pollution control residues) generated as a by-product at enfinium's Ferrybridge Energy from Waste plant, using its patented accelerated carbonation technology (ACT technology) which allows it to divert waste, that would otherwise go to landfill, treat it with Carbon Dioxide and, in doing so, permanently capturing the carbon and manufacturing a sustainable aggregate which can be used in the construction industry.
enfinium's ESG report highlighted their partnership with O.C.O. In 2022, O.C.O recycled over 24,000 tonnes of APCr from enfinium's Ferrybridge facility, capturing 2,400 tonnes of carbon dioxide (the equivalent of 112,300 trees) and saving 84,205 tonnes of virgin aggregate from being used in the manufacture of breeze blocks. The virgin aggregate being replaced by O.C.O's carbon negative Manufactured Limestone sustainable aggregate.
Philip Curds, Head of ESG & Sustainability at enfinium said: "O.C.O.'s ACT technology is a brilliant example of how technology can be used to achieve a more sustainable future, and we are pleased to be working with O.C.O as part of our ambition to build decarbonisation hubs across the UK. We are delighted to have been able to showcase this in our latest ESG report.''
Lizzie Bayley, Legal and Commercial Manager, said "We are very proud to be included in enfinium's excellent ESG Report for 2022. We share the values that enfinium have set out in their report and are very happy to be part of their continued journey as we all look to move towards a more sustainable future."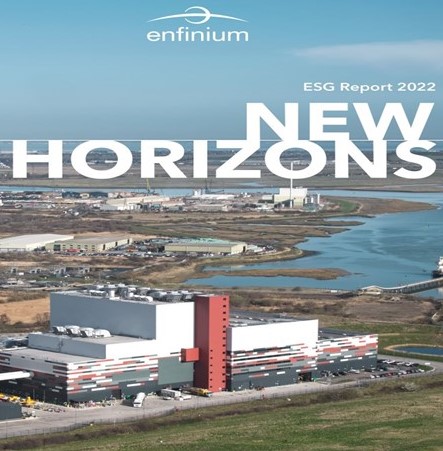 https://enfinium.co.uk/wp-content/uploads/2023/06/21062023-enfinium-ESG-Report-2022-1.pdf